Assault / Domestic Violence
Some Recent Results on Assault-Type Cases:
Charge
Result
Location
Date
Cause
Assault - Family Violence
DISMISSED
Denton
5/5/2020
Assault - Family Violence
DISMISSED
Denton
2/28/2020
Assault - Family Violence
NOT GUILTY
1/31/2020
NOT GUILTY
Denton
10/18/2016

Domestic violence charges, or "family violence" charges under Texas law, are one of the most emotional and personal criminal charges a person can face. They are also some of the most serious charges a person can face, and a guilty plea can have numerous negative consequences that can last a lifetime.
A plea of guilty to a domestic violence assault charge with a family violence finding, in addition to the fines, jail time, and probation that is on the table, can result in losing your right to possess a firearm, have a negative impact on a child custody case, and result in the denial or revocation of a professional license or security clearance.
Navigating the landscape of a domestic violence charge alone without a criminal defense attorney is simply not an option. Contact Denton County criminal lawyer Flint Schneider today and we'll fight this together.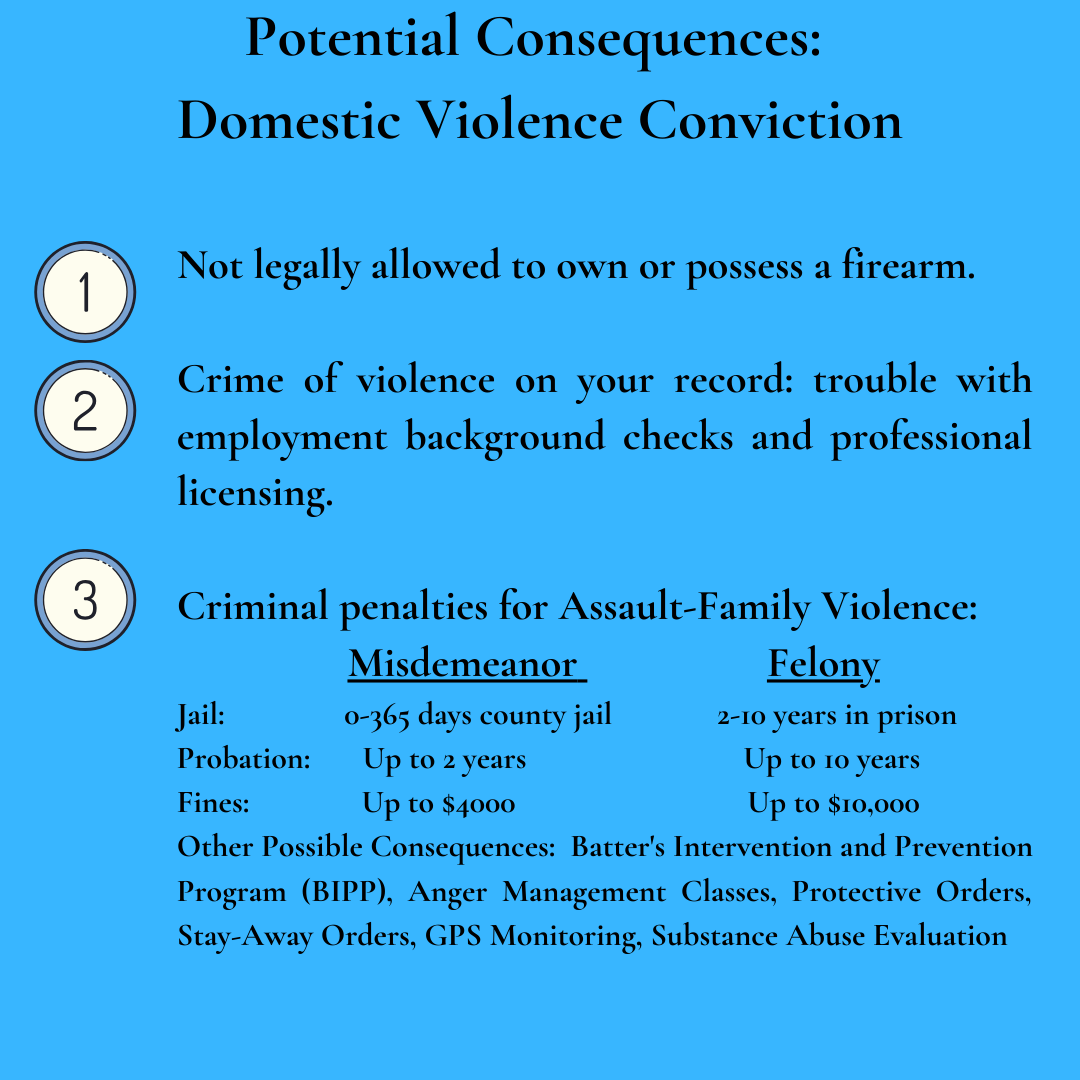 How can we help?
When you are charged with domestic violence, you don't just need any criminal defense lawyer. You need a trial lawyer that knows Denton County courts. And that lawyer is Flint Schneider.
In Denton County, family violence cases go to trial more than any other type of case. This is because oftentimes the case is a "he said, she said" situation. There may be some evidence of injury to one party and not the other, and the police and district attorney are quick to jump to conclusions and place the blame solely at the foot of the uninjured person, regardless of who started the confrontation. Sometimes in these situations, there isn't a middle ground for a plea bargain; the DA want a harsh punishment, and we want a dismissal of charges. In this case, a trial become necessary.
But that doesn't always mean the case goes to trial. Oftentimes, just the threat of trial and being willing to go the distance on the case is enough to get a dismissal or reduction of the charges. Sometimes that involves my client taking a short anger management course or pleading to a lesser offense, like a class C ticket. Other times, my client does nothing and the dismissal without conditions. And when we do have to go to trial- we win.
FAQ
What if my accuser wants to drop the charges against me?
Many people think that if the person that called the police simply drops the charges against them, no case will be filed. This is wrong. Once the police are called, a report is generated, and the evidence is collected an sent over to the district attorney's office. At that time, the DA's office reviews the evidence and determines whether or not to file a family violence case. Oftentimes, the DA is in possession of an affidavit of non-prosecution from the alleged victim in the case stating she wants the charges dropped. They will still file the case anyway. It is important that if you are charged with a domestic violence offense that you consult with an experienced Denton County assault lawyer immediately.
I want to file an affidavit of non-prosecution in Denton County. How do I do that?
In many cases, you can get an affidavit of non-prosecution by speaking with the Victim's Assistance Coordinator at the District Attorney's Office or you can get one from an attorney. Keep in mind that filing an non-prosecution affidavit does not mean the charges will be dropped, that the charges must be dropped under the law, or that the government cannot prosecute the case. An affidavit of non-prosecution has no legally binding effect to the police or District Attorney's office. It is not always wise to file one of these. The best result will come if you consult a criminal defense lawyer before doing anything yourself. Call Flint today and he will take the time to talk with you about your options and what is best for you or your loved one's case.
For assistance with Assault / Domestic Violence charges, call (469) 708-2828
Assault / Domestic Violence Topics